CBC Sports to live-stream the nation's 39 top spellers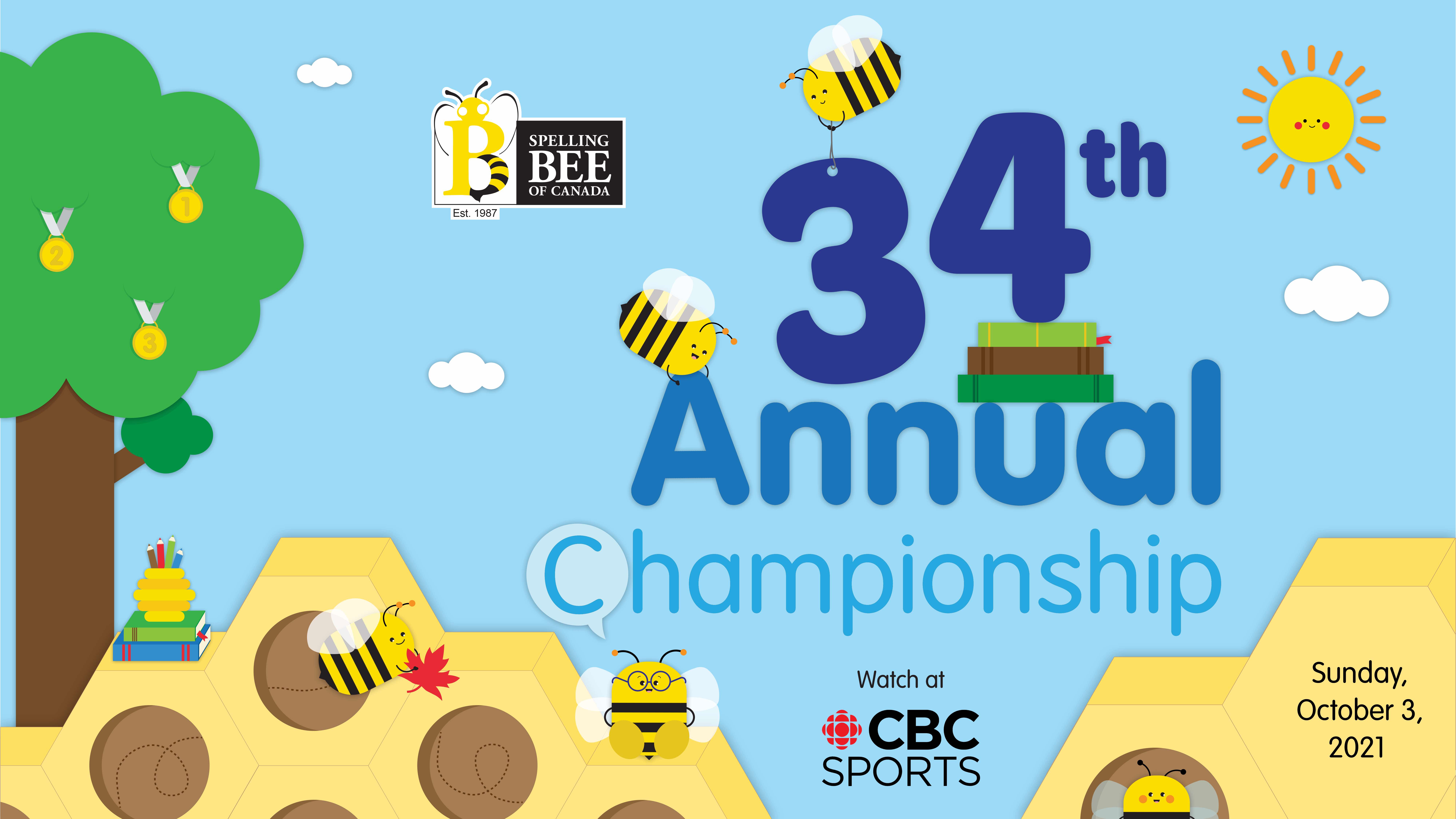 Toronto, ON, October 1, 2021 - Spelling Bee of Canada (SBOC) will be returning for its 34th Annual Championships with the support of media partner CBC Sports, who will be live-streaming the virtual spelling bee competition on cbcsports.ca, the CBC Sports mobile app, and the free CBC Gem streaming service on Sunday, October 3, 2021 at 12PM EDT.
39 Championship Finalists who placed 1st in their regional spelling bees will be competing across the nation. Competitors will represent their region from coast-to-coast in one of three age categories: Primary (ages 6-8), Junior (ages 9-11), and Intermediate (ages 12-14).
It was an important decision for SBOC to host the spelling bee competition virtually again, to ensure that the health and safety of the contestants and families were respected.  
"The emergence of COVID-19 has had a profound impact on our society, and with the implementation of public health measures, it became clear that the way in which we educate our youth would have to adapt, and we saw this opportunity for the students to learn new approaches with the technology," says Julie Spence, Founder of Spelling Bee of Canada.
"Following a herculean effort by our members, volunteers, sponsors, and supporters, we successfully completed SBOC's first virtual competitions last year," says Spence. "Our true joy came from seeing the youth practice, participate, and excel to a higher standard."
SBOC continues to expand to students reach across the nation. For the first time this year, finalists will include students from Québec. "We are pleased to have a new Quebec chapter. This has shown the importance of SBOC," says Spence.
The Championships will include special messages from Stephen Lecce, Minister of Education for the Province of Ontario, and Colleen Russel-Rawlins, Director of Education, TDSB.  
Returning to host the event are Markus Schwabe, host of Morning North on CBC Radio 1, and new co-host Jessica Pope, former CBC journalist and broadcaster with CBC Sudbury. Both hosts bring years of experience volunteering with Spelling Bee of Canada and will bring the commentary and energy to audiences at home throughout the 6-hour program. 
On Sunday, October 10, a special recap show featuring highlights from the Championship event will be available on CBC Gem and CBC Sports' YouTube channel. CBC Sports' Jacqueline Doorey hosts.
###
Founded in 1987, Spelling Bee of Canada (SBOC) is an educational organization that encourages youth, parents, teachers, and the community to participate in the education process.
For additional information, visit www.spellingbeeofcanada.ca
Contact:
Emily Wong
Marketing Director, Spelling Bee of Canada
emily.wong@spellingbeeofcanada.ca
Social Media:
Facebook: @spellingbeeofcanada
Instagram: @spellingbeeofcanada
Twitter: @SpellingBeeofCA